Think Rich, Pinoy - Abundance Seminar (Face to Face Seminar or Webinar)
Regular price
Sale price
₱5,997.00
Unit price
per
Sale
Sold out
Share
View full details
If you want to double your income and double your time off. In three years or less, investing in Philippine Real Estate, Then this may be the most important letter you'll ever read!
It doesn't matter if you've never invested in real estate in the Philippines or not. Whether you are a new or experienced investor, this  system will tell you straight what you need to know, so you can decide how much money you want to make and when!
Dear Friend,
Are you planning on owning real estate in the Philippines for yourself for your family or for investment?
If so, pay attention!
And, if you really want to become financially free through Real Estate Investing in the Philippines then this  is definitely for YOU!
I myself have been investing in Philippine Real Estate for over five years, but it wasn't easy when I bought my first property!  I mean, not only was I just a small investor but information on investing in Philippine real estate while fairly easy to find, is hard to handle.
Real Estate Investing is much like a recipe of your favorite dish. Good to enjoy when done, but heck of a lot of work to prepare, mix and cook.
No matter what others may claim, real estate investing is hard work.
Especially at the start.
To be quite honest with you, with little information and with ongoing personal challenges, I took the risk and  bought my first bank foreclosed property. Guess what? It was a winner! I sipped my first taste of pure vintage cash flow.
It felt so good I was encouraged to go out and acquire a second bank foreclosed property. Then a third. Each deal providing unique challenges.
Slowly, I found myself getting more and more excited with each property I acquired.
Same formula, each deal with a different challenge.  Sure there were occasional glitches and difficulties. I found the experience extremely enjoyable. Difficulties,  fun?
And it was soooo profitable and enjoyable that  I decided to share what I learned in a book entitled "Think Rich, Pinoy!" that details how I invested in Philippine Real Estate using principles learned from the best selling book of Robert Kiyosaki, "Rich Dad Poor Dad".
To my surprise, and discomfort,  I have been dubbed the Robert Kiyosaki of the Philippines!
To top it all "Think Rich, Pinoy!"  became a best-seller. People wanted to know more about how to invest profitably in Philippine Real Estate.
So I began offering one-day Think Rich Pinoy Wealth Seminars quarterly for the past 5 years.  
Together with Bo Sanchez, I've even offered the Seminar twice to Filipinos in Dubai.
People still wanted to know more. So I issue this question to all my Pinoy kababayans and Pinoy lovers all over the world….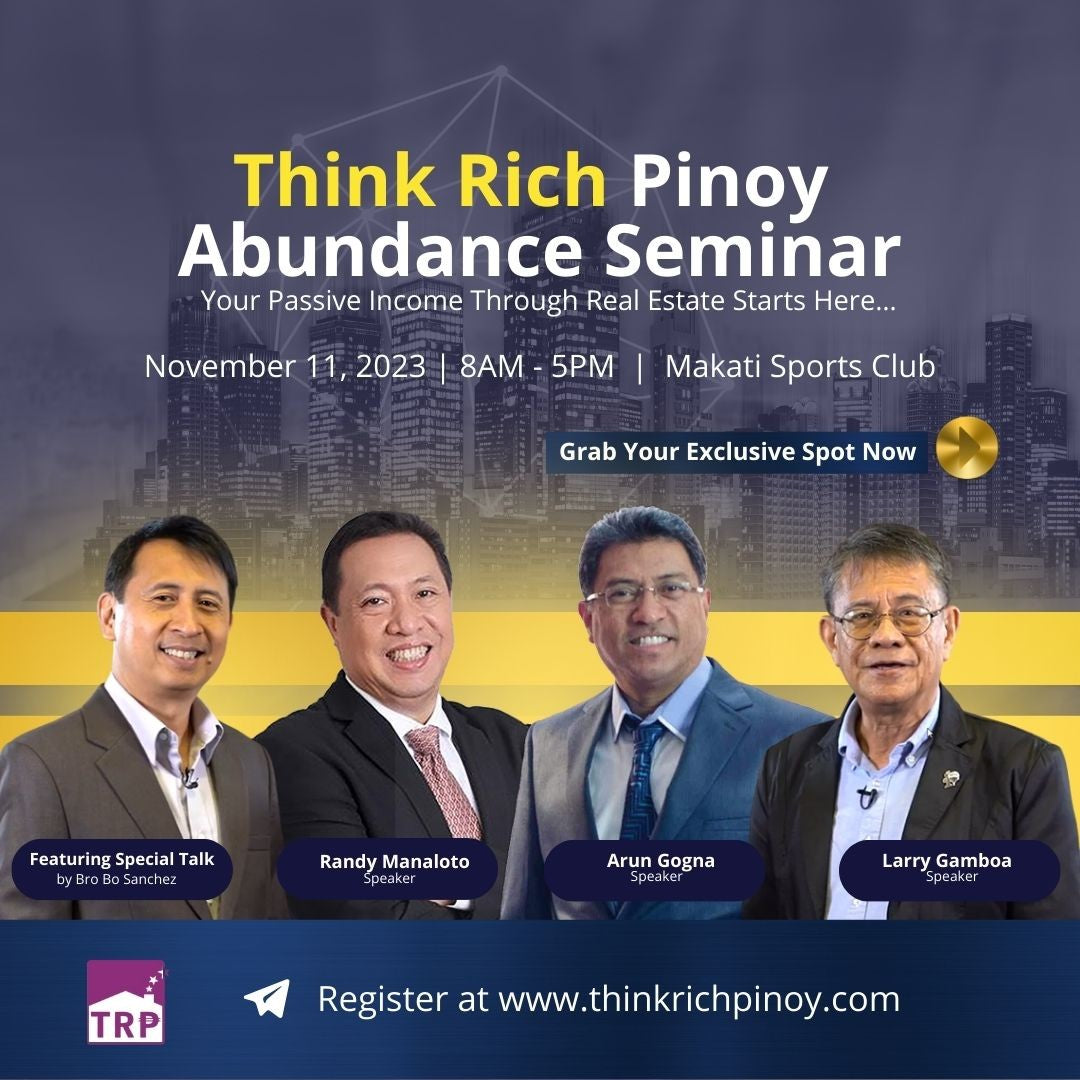 And the requests continue to come, "Larry will you be my coach?
Will you teach me how to do it?"  I would answer, "It's all there, just read the book!"
But the response would come back, "We need more help."
I want to hear it from you. Reading brings me only so far.
"What is wrong?" I asked myself, "don't people get it?" In the book,"Think Rich, Pinoy! I have broken down the secret of getting rich through real estate into seven steps. All folks have to do is follow it. And the steps are so simple.
Gradually I began to realize, yes the steps are simple but they aren't easy. People need more guidance. Ongoing direction. Encouragement. In short, live models. So the Think Rich, Pinoy! Wealth Seminar was born.
The live seminar gave folks concrete testimonies of successful Think Rich Pinoy Real Estate Investors doing deals.
Still questions continue to be asked during  and after each Think Rich Pinoy Wealth Seminar.
Where do you find the deals? How do you know you have a good deal?
Sometimes the questions simply covered fear. Folks simply could not pull the trigger by making an offer.
Well with this ongoing stream of requests, I needed help. So many requests. Just one me.  What could I do to help so many with so little?  Enter the Think Rich Pinoy Realty, Inc.
So with consultation and  encouragement from Bo Sanchez, Ambassador Jose Cuisia, and Nelson Terrible, my personal mentors and board members, I launched the Think Rich Pinoy Real Estate Investors Club.                        
After a year and a half, Think Rich Pinoy Real Estate Investors Club has helped create 2 Pinoy Millionaires.  80% failure rate.  20% success rate.
But can the Think Rich Pinoy Real Estate Investor's Club decrease the failure rate?  
Can folks be taught to buy and sell properties better and better?
Is it possible to speed up  the process? So that not only do people become wealthy, but they in turn teach others the secret of wealth?
Can you give us a blueprint on how to make 4 million in 12 months?
Our Think Rich Pinoy Live Seminar where seminar attendees can grow in mastery in the art of the deal, namely real estate investing. 
And as people grow their real estate portfolio and share and teach others to become real estate investors, results compound. In effect, successful real estate investors learn to train other successful real estate investors.
Thus, the philosophy behind the Think Rich Pinoy Real Estate Investor's Club. Double your money and double your time off while teaching others the secret on how to achieve Compounding results. In money.
In multiplying yourself. In time off.
Unbelievable? Yes. Possible? Why not!
Participation Cost
Walk-in
P 8,888

Early Bird Rate - Face to Face
P 5,997
Until November 10
Early Bird Rate - Webinar via Zoom
P 4,997
Until November 10
*2 Snacks and a Lunch Included for Onsite Attendees
Think Rich, Pinoy - Abundance Seminar (Face to Face Seminar or Webinar)
Regular price
Sale price
₱5,997.00
Unit price
per
Sale
Sold out
Share
View full details
Hear what they have to say....
"Through this book Larry Gamboa will be making a significant contribution to the practical education of young entrepreneurs and business students who may see the attractive opportunities in real estate investments as more banks aggressively divest their repossessed properties."

Jose L. Cuisia

Philippine Ambassador to the United States

"When it comes to money and real estate, Larry is my mentor and coach. Because of him, I'm financially where I am today. His counsel, his passion, his encouragement have kept me learning more ways of creating wealth, multiplying that wealth, and giving it away."

Bo Sanchez

author of "Simple Abundance"

"I am absolutely thrilled to share my experience working with Sir Larry Gamboa as my real estate mentor. From the very beginning of our mentorship journey, Sir Larry displayed an unparalleled level of expertise, dedication, and passion for real estate that is truly inspiring.


Laurent Dionisio

CPA